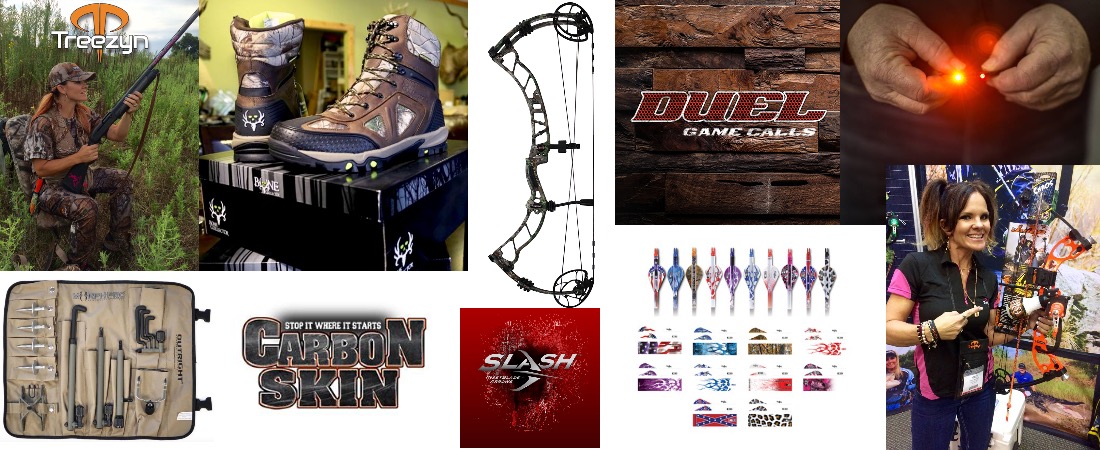 Mary's 10 Favorite Products for 2017
WEDNESDAY, FEBRUARY 8, 2017
The ATA Trade Show just confirms how exciting it is to have a passion for Archery, Bowhunting, and ADVENTURE. 2017 was no exception! With the amazing 653 exhibitor companies, almost 240,000 square feet of brands and products, and over 1000+ buyers, ATA has had great success in bringing the entire archery and bowhunting industry together under one roof.
Here are my 10 Favorite Products for 2017…
Obsession Bows TURMOIL
Up to 350fps with OB's NEW Hybrid DE Cams, draw lengths ranging from 25-30.5" in 1/2" interchangeable Mods, that retails at $699.00 puts this Bow in a whole new class. Recently helping Caleb Kerstetter win the Bowhunter Class at the 2017 Lancaster Archery Classic. This bow is high quality at a affordable price. "FUEL YOUR OBSESSION" www.ObsessionBows.com
Lumenok HD Orange
The original creator of the lighted nock, Lumenok continues to lead in lighting our way to a successful recovery. Built on a LED platform its pretty clear the NEW HD is superior to any other standard nock. "Light Em Up" www.Lumenok.com
Old Dominion Footwear – Realtree BONE COLLECTOR
Working with Michael Waddell's Bone Collector to create a whole collection of hunting and Realtree Outfitters lifestyle boots and shoes. Old Dominion Footwear has continued to created some of the most comfortable footwear for the hunting enthusiast. Collaborating with brother Michael just makes it that much better, from the NEW Badlands available now to the BC Snake Boot coming Fall of 2017. Its very exciting to see whats next! "The Brotherhood" www.OldDominonFootwear.com
Treezyn CAMOUFLAGE
Blending digital, 3D, and realistic patterns creating the most versatile camo pattern for all landscapes. Treezyn Camo was engineered with one purpose in mind, HUNTING. Water resistant, lightweight, great fit, with WhisperWear technology developed to make the most recognizable human form, DISAPPEAR! Just between us, wait till you see what coming! www.Treezyn.com
AMS Bowfishing THE JUICE
Lightweight, offering a 15–50 pound draw weight and a easy adjust 17½"–30″ draw length, also available with 60-80% let off and at 291/4" axle to axle, this little bow packs a punch. Comes with NEW Dual Muck Buster™ Line Pullers on the limb bolts for quick, easy retrieval of arrows stuck in the weeds, mud or muck! Blazing bright orange accents and powder coated aluminum riser and exclusive features makes for a fun bow to shoot. www.AmsBowfishing.com
Bohning Archery TRUE COLOR WRAP/VANE COMBOS
With the recent introduction to the new custom colors of Blazer Vanes. Bohning has decided to introduce True Color Wrap Vane Combo kits that give archers everything they need to add a little style to their arrows. Each combo pack includes 24 true color vanes, 12 white vanes and 12 of the matching true color wraps in standard size. Bohning Archerys continued commitment to innovate new products is second to no one in the archery industry. "Its In Our Vanes" www.Bohning.com
Duel Game Calls DUAL CHAMBER TECHNOLOGY
DUEL's patented Dual Chamber Technology™ projects sound through two separate chambers. Which emulates the oral and nasal cavities of animals with perfect, robust, resonating sound. Duel Game Calls uses dual chamber technology to make the most realistic sounding calls available. "Get Real" www.DuelGameCalls.com
Outright Hunting Products MORPHPRO BOW HANGER SYSTEM
The Morph Pro bow hangers and accessory hooks make setup quick and simple. The patented Quick Connect Screws and quick detach design allows for easy installation. When screw mounts are pre-installed one hanger can be used in multiple stand locations. Bowhunting.com's coolest product of ATA 2017, the MorphPro Bow Hanger system is the most versatile bow hanger on the market. "The Last BowHanger you'll ever Buy" www.OutrightHunt.com
Carbon SKIN Products FISH BE GONE LOTION
We all know that fish odor is tough to remove when out Bowfishing. CSP's Fish Be Gone lotion was created by fisherman to eliminate fishy smells. Scientifically tested Carbon Skin neutralizes odor formation on the skin's surface using enzyme based scent eliminators. "Stops scent where it Starts" www.CarbonSkinProducts.com
SLASH Arrows INSET BLADE ARROWS
Featuring a concealed pair of deployable blades Slash Arrows innovation is deadly. With a concentration on internal damage and penetration. A total 5 blade cutting surface of over 5" makes for huge wound channels. SLASH® INsetBlade® Arrows are factory tuned, you'll be able to shoot them right out of the box. "Twice the Killing Power" www.SlashArrows.com
There are so many NEW and innovated products from companies focused on giving hunters the tools they need for success. It is absolutely impossible to pick just 10. Wait till you see what is coming to a sporting goods and proshop near you. 2017 will be hard to beat!
God Bless their Success, Mary Roberts